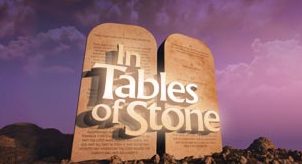 Don't Miss It Is Written's 
       "In Tables of Stone" Series


In an election year, words like "truth" are thrown around without much regard.

But what is truth? Many years ago, God wrote His truth in tables of stone. Man has tried to put pen to paper to draft his own truth, but that has often deteriorated as fast as the parchment it was written on. 
But God's law still stands today. He gave us a code of good moral conduct because He knows what's best for us.
He wants us to avoid the suffering that is caused by breaking His law. There is a reason those laws were written in stone by the finger of God Himself it's because He meant for them to last forever.
 
Join It Is Written for the 11-part television series called "In Tables of Stone." 
You will learn to see the love of God in those tables of stone, and discover a much better plan for a much better life!


Visit www.itiswritten.com to learn more.
For free online Bible studies, the weekly telecast script, and video podcasts, please click
www.itiswritten.com  


Each week, It Is Written takes timeless truths and applies them to everyday life. Programs regularly deal with such issues as loneliness, fear, low self-esteem, health, family values and spiritual principles. People of all faiths and creeds—even those with no faith at all—have been inspired and encouraged through It Is Written's straightforward and uplifting presentations.